You can hear the astonishment in Stephen Kelly's voice as he recalls the day he got a very important phonecall from the team at Hidden Hearing in Bray, Co Wicklow.
The unemployed builder was "overjoyed" to learn he was the recipient of the GiveBack scheme and would be awarded a free pair of high tech hearing aids.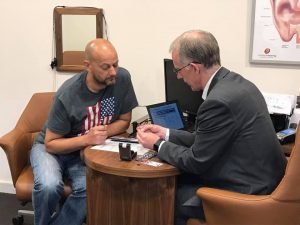 A few months before, Wicklow dad Stephen (49) had been devastated when he lost his precious hearing aids. 
"I bought those devices from Fionnan and Sharon in Hidden Hearing about five years ago and they had changed my life.
"Then last January, I lost them while visiting Bray one day.
"It was a huge blow because I'm out of work at the moment due to having arthritis in my hands and ankles.
"So I simply could not afford to buy new hearing aids, even though I desperately needed them."
Stephen called into Hidden Hearing to explain his dilemma and to his utter delight, he got that precious call a few months later to tell him he had been approved for the GiveBack scheme.
"I'm going to turn 50 in December so getting my new high tech hearing aids was the best early birthday present ever," he admits.
"I've always had problems with my hearing and found it impossible to follow conversations in noisy places.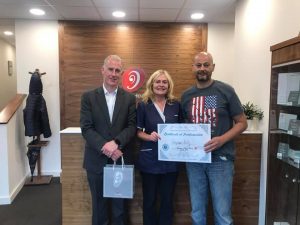 "Sometimes I'd end up saying something inappropriate or having an argument because I had not heard the person correctly.
"It's mentally exhausting lipreading or trying to guess what someone is saying — nobody with normal hearing can really understand what that struggle is like."
Stephen, who is dad to Jack (20) and Maya (13), says he can now hear "absolutely everything clearly" and the TV is back to a normal volume.
"I would say to people with hearing loss to try out the latest devices, the extra quality of life they give you is priceless.
"I've advised loads of friends and family to go to Hidden Hearing over the years and they thank me for it later."
Book a FREE hearing test in 55 Main Street Bray by calling 01 286 3971 or click here to book your hearing test online.