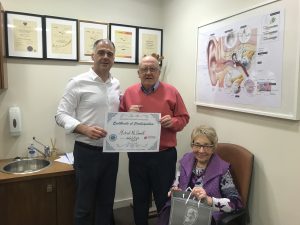 A retired Dublin bar manager who survived cancer has spoken of his joy at being able to hear properly again.
Michael McDonnell, a familiar face behind the counter at the Kings Inn pub in Dalkey for 43 years, was devastated when his hearing was damaged during treatment for bladder cancer in 2007.
He recalls: "I suppose like most people, I took my hearing for granted. It would have been impossible to work in a bar without being able to hear what people were ordering.
"I am extremely grateful to have survived cancer but it was very difficult to live a normal life with severe hearing loss."
A keen golfer and bridge player, Michael (78) started to avoid his favourite hobbies. "It's hard to play cards when you can't hear the bidding," he points out.
His wife Teresa recalls: "It was terrible to see him becoming more isolated. He's retired from working in the Kings Inn but used to meet his friends there for a coffee and a chat. That all stopped when Michael's hearing deteriorated."
The Dalkey-based couple decided to visit Hidden Hearing in Ballsbridge where audiologist Enda Dooley delivered some wonderful news.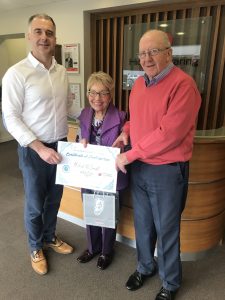 Michael could walk away with life-changing high-tech hearing aids — for free!
Enda, recently awarded a Certificate of Commendation at the Audiologist of the Year Awards, explains: "Hidden Hearing has a GiveBack scheme where deserving customers who cannot afford top-of-the-range hearing aids are nominated for a free pair.
"Teresa wrote me a very heartfelt letter, explaining how Michael was becoming socially isolated as he struggled with his hearing.
"When I met this lovely couple, I could not think of a more deserving recipient for the GiveBack programme."
Several months later and Michael reveals that "there is no comparison" to his quality of life now that he can hear again.
"I was in a state of shock when I heard I was getting free hearing aids. I'm thrilled and delighted that Hidden Hearing has the GiveBack scheme.
"The Opn1 hearing aids have made all the difference to my life."
For more information or to book your free hearing test, click here or call 1890 80 40 50.