Galway's 1st Give Back Recipient of 2019, Celebrating the Campaign for Better Hearing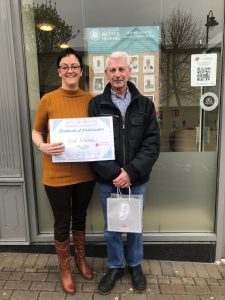 Craughwell man, Noel Redmond has just received FREE state-of-the-art hearing devices from Hidden Hearing after being nominated by his Audiologist Rose Multaney. He met Rose initially in the Hidden Hearing clinic at the Athenry Primary Health Care Centre. After speaking with his audiologist, it was clear that he couldn't afford these devices he needed so badly. Rose said, 'Noel has faced a number of struggles in his life. His partner of over 40 years has MS and has since recovered from cancer. They needed to pay upfront for a lot of necessary and expensive treatments for his partner to get well again. Noel has his partners wellbeing before himself & he loves and adores her. I was delighted to be able to give him back his hearing & fit him with the Oticon OPN devices.'
Noel has faced a lot of hard situations in his past and also recalls funny moments which made him realise his hearing wasn't all there. 'My daughter would often say, Dad your stone deaf or mock me for not hearing her right. Also, if my partner fell in the next room because of her MS, I wouldn't hear her call out for help. Honestly, if it wasn't for the dog coming to warm me she had fallen, I wouldn't know because my hearing is that bad.", Noel admits.
Thankfully Noel's plight came to the attention of his Audiologist in the Athenry clinic. Rose, Noels Audiologist who nominated him for new hi-tech hearing aids, also works in Hidden Hearing Athlone. Which is where Noel was fitted with his new devices.
Now fitted with brand new world-leading Oticon OPN hearing technology, Noel couldn't be happier.  He can talk for hours on the phone and has renewed an active social life with more vigour than ever.
"I wouldn't go to social things, because I found it hard to chat to people.  Everything seemed so loud before, and I couldn't make out a word.  I'm much more confident now with these hearing aids.", Noel says.
The retired factory worker is looking forward to living life better with his partner & is looking forward to being more able to care for her. 'She couldn't believe it when I told her I had been chosen to receive these new hearing aids. When I was working in the factory years ago, there was no such things as ear protection and it really has affected me later in my life.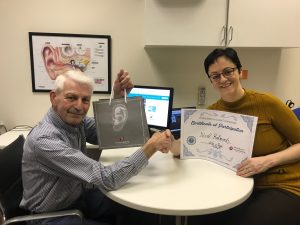 HEAR ARE the FACTS                             
Around *86% of hearing loss in Ireland goes untreated, for several reasons, even though 1 in 5 adults suffer from at least a mild hearing problem.   By the age of 55, one-quarter of the population report a significant deterioration in hearing and, by 65, this applies to one-third of people.
According to Hidden Hearing Marketing Director, Dolores Madden, over half the population between the ages of 60 and 80 are likely to have measurable hearing loss.
"Of all the senses, hearing fundamentally affects our quality of life and has important health and safety implications.  Hearing loss is a simple fact of life, as we age, and needs treatment like any other health condition.
Good hearing facilitates communication, social interaction, relationships and day to day activities.  It also means we are alerted to danger and more conscious of it", Dolores Madden explains.
In the region of 100,000 people may be risking the knock-on physical and psychological impacts of untreated hearing loss which, Hidden Hearing reports, has been shown to include social isolation, depression, dementia, poor heart health and stroke.
Hidden Hearing's Campaign for Better Hearing is supported by Daniel and Majella O'Donnell and aims to educate the public on taking care of their hearing, just as they would look after their teeth, eyesight, blood pressure or cholesterol.
The campaign encourages everyone over the age of 50 to have a free hearing test, and the Hidden Hearing "Give Back" programme fits complimentary hearing devices for deserving recipients.
Free hearing testing is available in over 80 state-of-the-art Hidden Hearing clinics throughout Ireland, as the healthcare provider drives home the message that taking care of hearing is essential, not least because life is worth hearing!
Book your FREE hearing test today with Hidden Hearing. If you have a problem with earwax, you can also avail of FREE earwax removal if you are over the age of 50.
You can call 1890 80 40 50 to book your free hearing test today.