Events at Hearing Awareness Week
Medical research around the world supports the assessment that untreated hearing loss is linked to general health and wellness and can indicate a higher risk of problems with heart health, stroke, diabetes and dementia.
This year, the 11th year of Hearing Awareness Week took place in Dundalk & Kilkenny. Hidden Hearing once again collaborated with the Irish Heart Foundation and Diabetes Ireland to provide FREE screenings for hearing loss, heart health and diabetes.
The events were held on Tuesday, the 16th of October in the Crowne Plaza Hotel in Dundalk and on Wednesday the 17th in the Newpark Hotel in Kilkenny city.
The day-long screening events ran from 10.00am to 4.00pm and health specialists were available to answer questions and provide vital health checks and procedures, including blood pressure and blood glucose measurement, earwax removal assessments and hearing tests.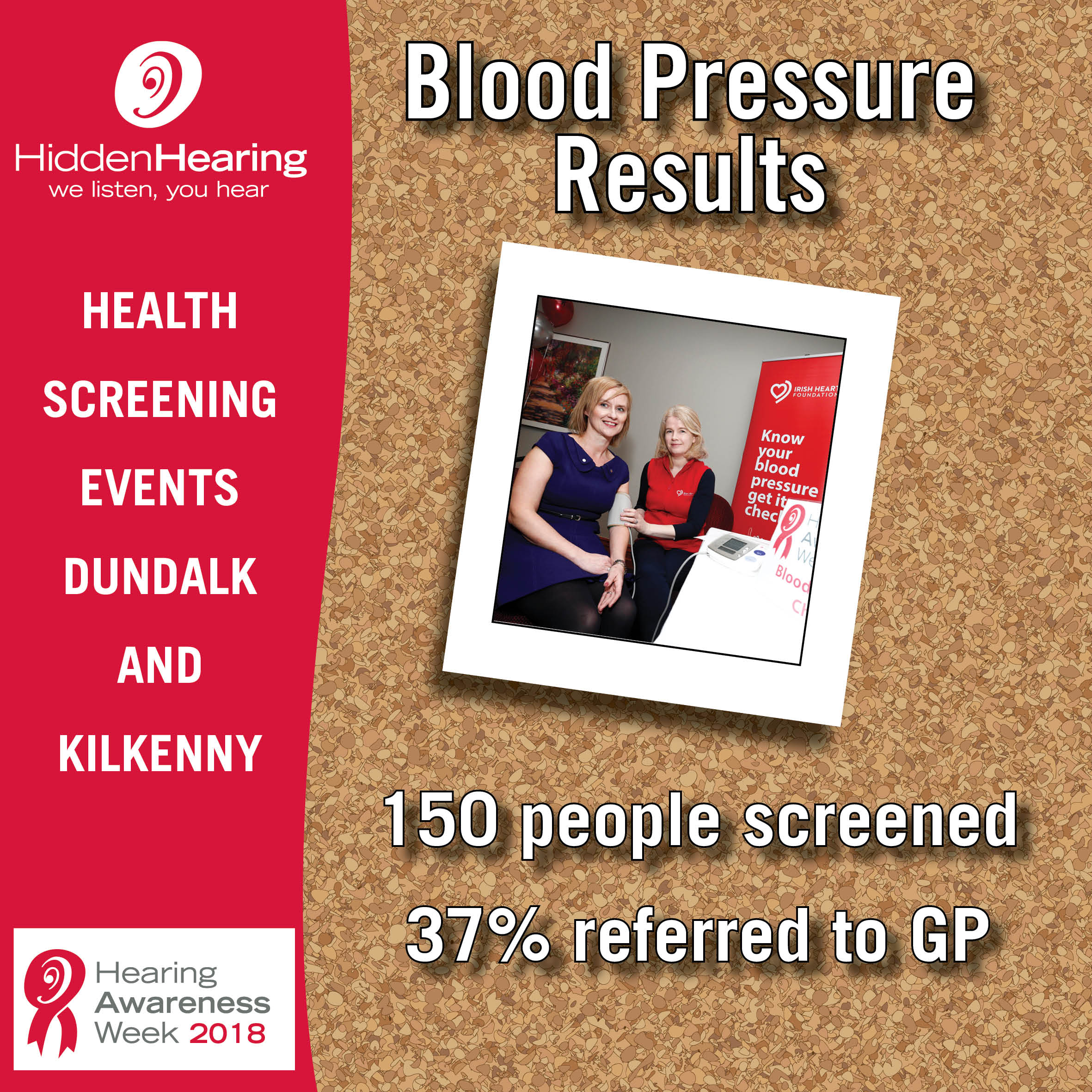 Free Blood Pressure Testing at Hearing Awareness Week
Marese Damery, Health Check Manager for the Irish Heart Foundation, says a blood pressure test can prove to be a life-saver, as high blood pressure is symptomless and is a leading cause of heart disease and stroke in Ireland.
"The Irish Heart Foundation is delighted to have nurses at Hidden Hearing's roadshow in Dundalk and Kilkenny to offer free blood pressure and pulse checks and lifestyle advice. These are simple, quick and non-invasive tests that could prove life-saving, and we would encourage people to pop in to us in Kilkenny or Dundalk and avail of our free checks."
Almost two thirds of people over the age of 50 in Ireland have high blood pressure, around 800,000 people, Marese Damery adds, advising that once the problem is identified, it can be effectively managed through lifestyle changes and possibly medication.
The results of the events from The Irish Heart Foundation are as follows:
Over 150 people had their blood pressure checked in Kilkenny & Dundalk
51% of people checked in Dundalk were referred to their GP
22% of people checked in Kilkenny were referred to their GP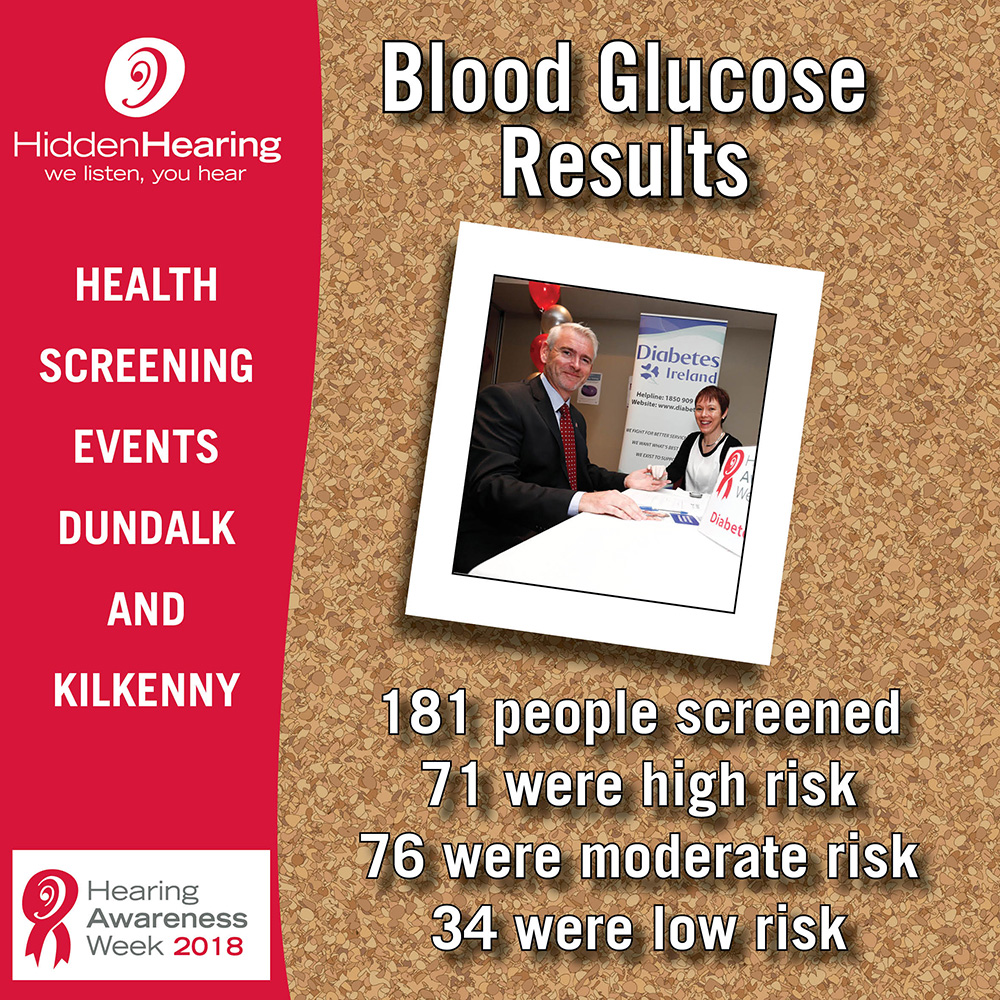 Free Blood Glucose Testing at Hearing Awareness Week
Type 2 diabetes is also a growing problem in Ireland, with over 200,000 people already diagnosed and an estimated prevalence of 6.5% of the population. However, based on yearly screening statistics, Diabetes Ireland suggest this figure may be higher.
"With 60% of our adult population overweight, and many not taking the required daily exercise to reduce their risk, we would question how many people in Ireland have undetected Type 2 diabetes", Sinéad Powell, Senior Dietitian and Regional Development Officer with Diabetes Ireland, says.
"We are urging people to get screened, as once a person knows they have diabetes they can then begin to manage the condition to avoid longer term complications", Sinéad explains.
The results of the events from Diabetes Ireland are as follows:
181 people had their Blood Glucose Levels checked
71 were high risk
76 were moderate risk
34 were low risk
Free Hearing Testing & Earwax Removal Assessments at Hearing Awareness Week:
86% of Hearing Loss Untreated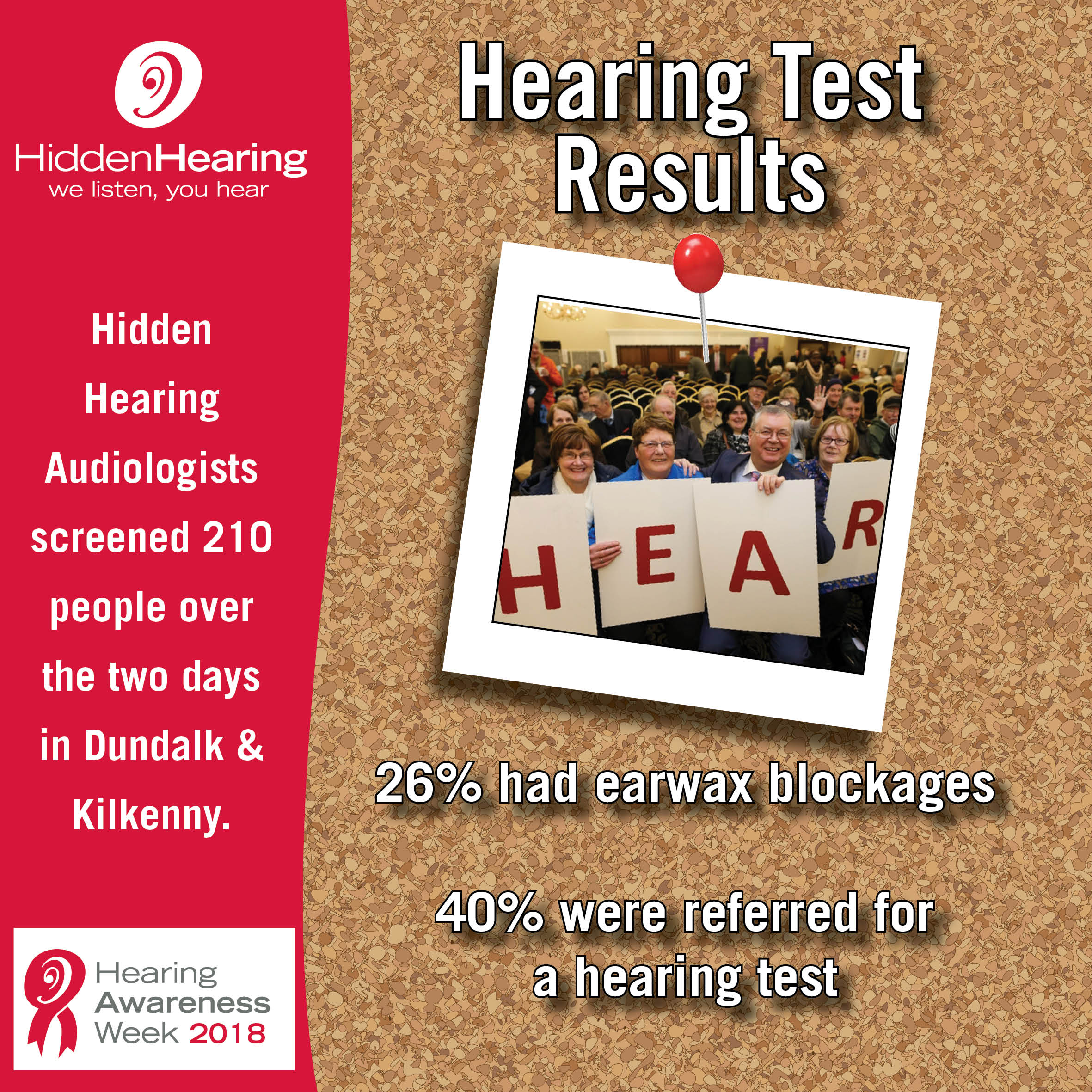 Over three-quarters of hearing loss in Ireland is left untreated, for several reasons, with the experts advising that the sooner a problem is identified, the more effective treatment can be. Hearing can be damaged by prolonged exposure to noisy environments and by infections, although, most commonly, it simply deteriorates with age.
In Ireland, 1 in 5 adults suffer from at least a mild hearing problem. By the age of 55, a quarter of the population report a significant deterioration in their hearing and, by 65, this applies to one third of people. With most people waiting on average 10 years to address their hearing loss, this delay unfortunately impacts significantly on their general health and wellbeing too.
A report by the National Council on the Ageing has shown that people with hearing loss who do not use hearing aids can be prone to depression, worry, and diminished social activity.  Those whose hearing loss is treated report better relationships, improved mood, and more independence.
Of all the senses, hearing fundamentally affects quality of life and has important health and safety implications, according to Hidden Hearing Audiologist & current reigning Audiologist of The Year, Yvonne Doyle.
"Hearing loss is a simple fact of life, as we age.  But, hearing facilitates communication and social interaction, supporting relationships and routine activities.  It also means we can be alerted to danger and more conscious of it", Yvonne explains.
Needing to turn up the TV or radio volume, feeling that people are mumbling more, and having to ask for things to be repeated are the first obvious signs of hearing loss.
The results of the events from Hidden Hearing are as follows:
Hidden Hearing Audiologists screened 210 people over the two days in Dundalk & Kilkenny.
40% of people screened were referred for a free hearing test & 26% of people screened were referred for a free earwax removal. Everyone else screened appeared to have normal hearing or no earwax blockage.
Sources
Source Empathy Research Nov 2017
Diabetes Ireland – HAW event Oct 2018
Irish Heart Foundation – HAW event Oct 2018
Hidden Hearing Ireland – HAW event Oct 2018
Free Hearing Test available
Free hearing testing is available in over 80 state-of-the-art Hidden Hearing clinics throughout Ireland, as the healthcare provider drives home the message that taking care of hearing is essential, not least because life is worth hearing!