Hidden Hearing attended the fantastic Senior Times, 50 Plus Expo in Cork City Hall on Saturday 7th and Sunday 8th April 2018, alongside 70 other exhibitors. We really enjoyed our time at the event, and want to thank everyone who came by and visited the Campaign for Better Hearing stand. You may have spotted our giant banana couch!!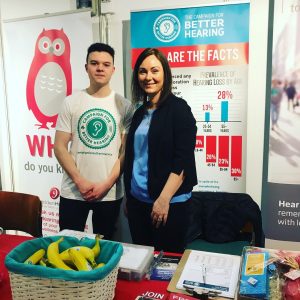 Members of our skilled team were on hand to answer any hearing healthcare questions, and provide you with some of their expert insights. Our Audiologist Sarah Sheehan from Hidden Hearing Macroom and Fermoy attended the event on Sunday, and provided free hearing screenings along with advice and support. There was also plenty of our ever-popular Hidden Hearing goodies being given away free at our stall for those lucky enough to stop by!
Our main aim over the weekend was to raise awareness for Campaign for Better Hearing. The Campaign for Better Hearing is an initiative that aims to educate people about hearing health and the dangers of untreated hearing loss, and to provide a free hearing screening to every person over the age of 50. Did you know that according to empathy research, 1 in 5 adults in Ireland over the age of 50 suffer from hearing loss?
To support the Campaign for Better Hearing simply call 1800882884 or click here to book your free hearing test in any of our 75 state-of-the-art clinics nationwide.